Mezzanine systems are open platforms that are raised and supported by columns and beams. They create extra space for various applications. Mezzanines can be used in industrial settings such as factories and warehouses to create workspaces, storage, and other functions. Mezzanines can be built in any irregular, rectangular, or square shape. These systems can be placed around a factory's perimeter, at the center of a warehouse floor, above existing shelves if they can handle the weight, and in other places. Read More…
Mezzanine Systems
Mezzanine systems are raised, open platforms supported by beams and columns that are used to create extra space for many applications. Industrial mezzanines are used in warehouses, factories and other industrial settings for the creation of storage and work space and for other purposes.
How Mezzanine Systems Function
Mezzanines can be free-standing or built into the structure of a building (aka a structural mezzanine). Creating a mezzanine system increases the capacity by doubling the area where it is built. There are many reasons why mezzanine systems are built; these include creating office space, accommodating light machinery, and long-term or temporary storage of equipment or supplies.The mezzanine level between levels of a building is mainly for increasing the floor area of a building without adjustments to the building itself. The functions are numerous and include work operations, inventory rack access, conveyor access, work operations, storage, and equipment access.
Mezzanine System Installation
Mezzanine installation varies based on the need. Mezzanines are, in most cases, assembled on-site; however, prefabricated mezzanines can be assembled at the factory and installed when they arrive on site. Mezzanines can be installed with load-bearing piers called semi-permanent platforms that do not add tension to the original structure. Some Mezzanines can be installed based on the original structure, extending from the floor by using the load-bearing points of the original structure, giving itself support.
Types of Mezzanine Systems
The different types of mezzanine systems include:
Aluminum Mezzanine System
This type of mezzanine is suitable for light-duty applications. They are easily washed and resistant to corrosion. However, aluminum mezzanines cannot withstand heavy loads as they are made from sturdy but light extruded aluminum.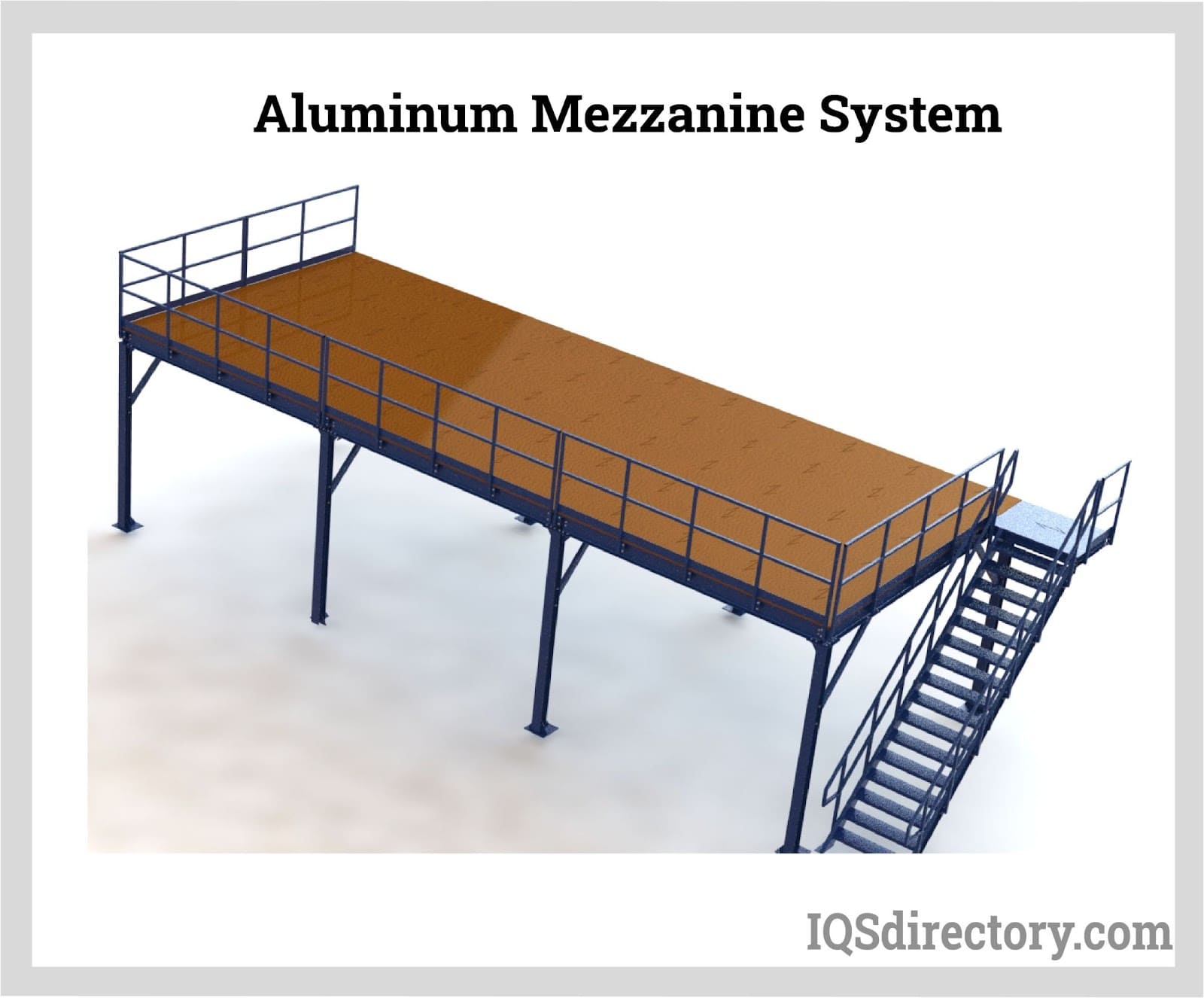 For this purpose, aluminum is extruded in tabular columns, C-channels, and I-beams. A deck from light materials like fiberglass and aluminum grating is made to complement the understructure.
Free Standing Mezzanine System
These platforms are raised to stand without hanging, leaning, or being supported by another structure. In addition, many free-standing mezzanines are prefabricated, performing less demanding tasks as in the temporary equipment.
Cold Rolled Steel Mezzanine Systems
This type of mezzanine is constructed of cold-rolled metal sheets below the recrystallization temperature of steel by brake press to a C-channel rather than an I-beam. They are lighter, offering a significant investment cut and being aesthetically appealing. They are best suitable for public buildings; the columns used can either be tapered or in traditional column shapes.
Hot Rolled Structural Steel Mezzanine System
These have many elements of understructure and structural I-Beams to columns constructed from hot rolling. There are also additional elements like a handrail that can be a solid panel, baluster, or horizontal handrail. The gates of the hot-rolled structural steel mezzanines may be fabricated as swing gates, sliding gates, or lift-out gates. They may have resin particle board decking, B deck, plank, concrete, plywood, and bar grating.
Applications of Mezzanine Systems
The applications of mezzanine systems include:
Storage of unused materials
Walking space and passages for facility guests
Working platform for equipment
Providing floor space
Seat people in auditoriums
Ceiling for offices
Saving space -- an office could be built at mezzanine level and the space below used for storage
Mezzanines are used by consumers in many sectors, including education, aerospace, agriculture, food service, manufacturing, storage, transportation, outdoor recreation, healthcare, and retail.
Benefits of Mezzanine Systems
The benefits of mezzanine systems include:
The mezzanine gives businesses enough space to carry out operations without hindrance.
Mezzanines are highly versatile since they can provide office, working, or storage space.
Mezzanines help expand storage and working areas without heavy investment in construction.
Choosing the Right Mezzanine Systems Company
To make sure you have the most constructive outcome when purchasing Mezzanine Systems from a Mezzanine Systems Supplier, it is important to compare at least 4 Suppliers using our list of Mezzanine Systems companies. Each Mezzanine Systems Supplier has a business profile page that highlights their areas of experience and capabilities and a contact form to directly communicate with the manufacturer for more information or request a quote. Review each Mezzanine Systems business website using our patented website previewer to get an idea of what each business specializes in, and then use our simple RFQ form to contact multiple Mezzanine Systems companies with the same form.
Mezzanine Systems Informational Video