A mezzanine floor is a floor constructed between two main floors of a building. It is, therefore, typically not included in the overall floor count of a building. A mezzanine is often low ceilinged and projects outwards in the form of a balcony. In industries, mezzanine floors are semi-permanent floor systems typically installed within buildings and built between two permanent original stories. Mezzanine floors are usually free-standing, so they can be dismantled and reinstalled in a new location. Read More…
Mezzanine Floors
Mezzanine floors are platforms used in mezzanine systems to create space for storage and for other applications.
Mezzanine floors that are commercially sold are built from three main materials: aluminum, steel, and fiberglass.The flooring of mezzanine floors varies, but it is generally constructed using b-deck underlayment and finished flooring made of wood. They can also be composed of aluminum, heavy-duty steel, or fiberglass grating.Industrial mezzanine floors are typically roll-formed, structural, shelf supported, or rack supported, allowing the storage of high-density equipment within the mezzanine floor.
Types of Mezzanine Floors
The different types of mezzanine floors include:
Rack Supported Mezzanine Floors
These types of mezzanine floors are constructed without structural columns. They are supported by shelving systems as well as pallet racks. They offer dense storage space for equipment both on top and underneath.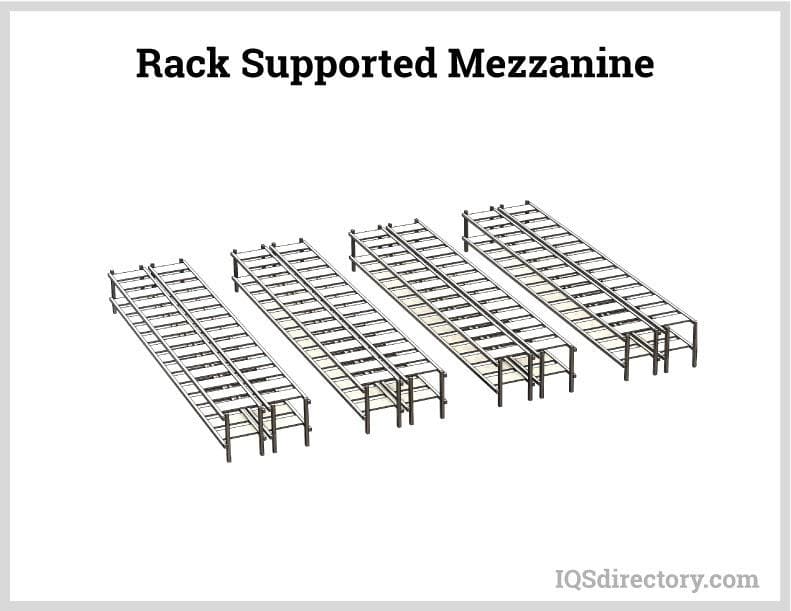 Rack supported mezzanine floors effectively enhance space. They are ideal for goods that are small and medium-sized. The movement of goods in these types of mezzanine floors generally occurs through forklifts, hydraulic lifting, or hydraulic pallet trucks.
Steel Structural Mezzanine Floor
These types of mezzanine floors are supported by steel columns. They are high-level platforms that are independent of the main building structure. They are supported by shelving, which enhances their storage capacity.
They make maximum use of the height of the available premises. Steel structural mezzanine floors can increase the surface area threefold, allowing them to be used as changing rooms, storage space, offices, etc. Moreover, they can bear heavy cargo load, given that the construction is made with I-beams for support.
Concrete Mezzanine Floor
These are one of the most durable types. They are designed with a high point load, and noise transmission via the floor is minimal. Corrugated steel VL decking is used on the concrete floor. Consequently, a pour stop for expanding the concrete floor up to 6 inches (15 cm) is provided. Concrete mezzanine floors are mostly utilized in high-capacity industrial applications.
Applications of Mezzanine Floors
Mezzanine floors are mostly utilized in shops and similar spaces to store tools and materials. This means using either a combination of short or long-span shelving above and below the floor. Offices can be put either above or below if the shop has a high roof. Office mezzanines can be constructed in the factory and warehouse environment using composite or steel partitions.
Mezzanine floors are mostly utilized in industrial operations, including warehousing, manufacturing, or distribution. This is so because the high ceilings of these facilities allow unused space to be used within the vertical cube.
Mezzanine floors are used in retail to increase selling space and back storage. There are stringent regulations when mezzanine floors are utilized in retail as the floor has to be fire-rated, and the stairs are used for public access. The handrail is suitable for use by the public.
Benefits of Mezzanine Floors
Mezzanine floors bring more space without having to move the business location.
They are a cost-efficient way of maximizing the available space.
They can be quickly installed without disruption to the business.
Mezzanine floors increase business output and performance by using all available space and organizing it to suit specific needs.
They can be customized and have flexible designs.
Mezzanine floors are relocatable and portable. They can be carried to the new location when the premises are moved.
What to Consider When Purchasing a Mezzanine Floor
Number of mezzanine levels needed
If more levels should be added
Height of the mezzanine floor
Whether the mezzanine needs to be fire-rated
Planning permission
Whether building control should be contacted
Amount of weight the floor can bear
What floor finish is suitable
Choosing the Proper Mezzanine Floors Supplier
To make sure you have the most positive outcome when purchasing Mezzanine Floors from a Mezzanine Floors Manufacturer, it is important to compare at least 4 Suppliers using our list of Mezzanine Floors manufacturers. Each Mezzanine Floors Company has a business profile page that highlights their areas of experience and capabilities and a contact form to directly communicate with the manufacturer for more information or request a quote. Review each Mezzanine Floors business website using our patented website previewer to get an idea of what each company specializes in, and then use our simple RFQ form to contact multiple Mezzanine Floors companies with the same message.
Mezzanine Floors Informational Video