Equipment platforms are elevated platforms used for the additional storage of industrial equipment or mechanical systems. They provide access to said equipment. These equipment platforms consist of elevated walkways, stairs, ladders, and alternating tread devices used to access the space. Equipment platforms are not permanent parts of the buildings.   Read More…
Equipment Platforms
Equipment platforms are a great way to maximize the potential of your workspace, even if you don't have a lot of floor space to begin with. A lot of equipment platforms come prefabricated which means that you can count on these structures to arrive in peak structural form. The design of an equipment platform is unique to the application in which it serves.
They are more permanent than scissors, scaffolding, or bucket lifts but can be removed and reconfigured. Many equipment platforms can be disassembled and reinstalled at different locations. Equipment platforms can be found in both indoor and outdoor environments like factory floors and seaports. They are typically made of plastic, metal, or fiberglass.
Components of Equipment Platforms
An equipment platform typically has the following components:
Guard Railings
These serve to prevent accidental falls in everyday operations or maintenance, increasing worker safety.
Gates
Gates facilitate the safe transfer of equipment to and from the platform during a manufacturing or maintenance process.
Customized Structural Design
Custom structures ensure the safe bearing of a load of equipment.
Seismic-Resistant Design
Seismic-resistant design improves the stability of the structures during seismic events to ensure that all heavy equipment stays in place.
Requirements of an Equipment Platform
Equipment platforms require spans, footings, and load-bearing columns. They also require deck heights, which can be adjusted for the special platform height requirements. Landings, as well as prefabricated stairways, are required to facilitate the proper functioning of the equipment platform. These are usually ordered for use in rooms with limited space for stairway runs. The equipment platform can be strengthened with extra supports that can be incorporated into any part of the equipment platform in concern of the equipment load points.
Types of Equipment Platforms
The different types of equipment platforms include:
Metal Bar Grate Flooring Equipment Platforms
These types of equipment platforms are versatile enough to be relocated, dissembled, or reconfigured for the future expansion of the plant. This, in turn, will allow for the enlargement of the structure and relocation or equipment modifications without the waste of any part of the original platform, platform stairs, and landings since redesigns are required.These equipment platforms can be painted with many colors to keep them looking good and performing well for multiple years, even when exposed to the elements.
Poured Concrete Flooring Equipment Platforms
Concrete flooring is poured on the equipment platform for a more durable, permanent, and long-lasting surface. These platforms have increased strength since they are made of strong concrete material. They can hold heavy loads of equipment without breaking and require less maintenance. However, they require more support to hold them firmly in position.
Prefabricated Equipment Platforms
These equipment platforms have a modular design and can easily adjust to meet most equipment access challenges. Prefabricated equipment platforms are less expensive than custom options, and they are installed by the purchaser or a third-party contractor. They consist of punched, extruded, and welded metal.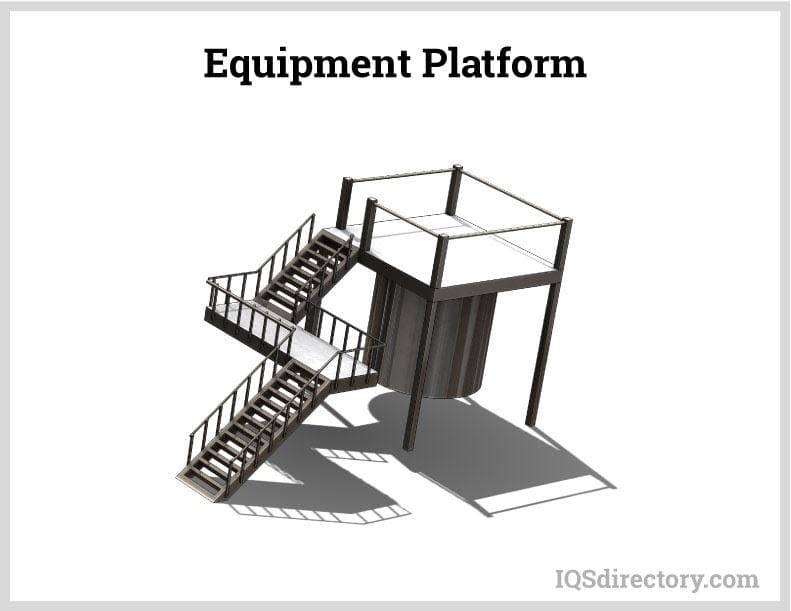 Applications and Uses of Equipment Platforms
Equipment platforms can be used for elevating industrial liquid storage tanks. They can also be used to elevate other products that use gravity to transport the product to its next stage in production.
Equipment platforms are used to access the tops of transport trucks like tankers and top load gondolas.
They are used on factory floors as well as seaports.
Benefits of Equipment Platforms
Since they store products above the work floor, they save valuable floor space.
Equipment platforms add security and safety to working above the floor with many options of access gates, handrails, and sliding gates. These options added to an equipment platform can make up a safe gangway or raised walkway to access machinery or service areas that are difficult to reach safely.
They are durable and also versatile for future expansion.
They can be designed for large spans and load requirements.
Choosing the Right Equipment Platforms Manufacturer
To make sure you have the most constructive outcome when purchasing Equipment Platforms from an Equipment Platforms Supplier, it is important to compare at least 6 Manufacturers using our list of Equipment Platforms companies. Each Equipment Platforms Manufacturer has a business profile page that highlights their areas of experience and capabilities and a contact form to directly communicate with the manufacturer for more information or request a quote. Review each Equipment Platforms company website using our proprietary website previewer to get an idea of what each business specializes in, and then use our simple RFQ form to contact multiple Equipment Platforms companies with the same form.
Equipment Platform Informational Video